My name is Joshua D. Krizan. I graduated from the police academy in 2012 and received the academic award for highest grade point average. I am a graduate of Community College of Beaver County with an Associate of Science in Criminal Justice and an Associate of Science in Police Technology and inducted into Phi Theta Kappa honor society. I am also a graduate of Pennsylvania State University with a Bachelor of Science in Administration of Justice.
I started my law enforcement career in 2013 with several police departments including Bridgewater Borough police department. Some of my experience includes: criminal and accident investigation, in-field interviews, advanced report writing, prisoner transport, evidence processing, drug investigation, and administrative duties. I am dedicated to increasing community safety and decreasing crime rates.
In my free time, I enjoy any outdoor activities, riding motorcycles, reading, and spending time with my family and friends.
Chief Chuck Bates
Chief Bates moved to Bridgewater July of 2000.
He has served with Bridgewater VFD since June of 1998 and has served as Assistant Chief from 2001-2003 and has served as Chief since January 2004 prior to
Chief Bates began his Volunteer Fire Service in March of 1993 with the Brighton Twp. VFD and has now had 22+ years of  service in firefighting
In addition to Bridgewater VFD, he has also served as the Emergency Management Coordinator of Bridgewater Borough for over 10 years.
 Contact Information.
Station Phone: 724-775-5970
Chief's Phone: 724-624-1678
 Chief Bates also serves as President of the Bridgewater Planning Commission.
Planning Commission phone number of 724-624-1678
BRIDGWATER STREET DEPT.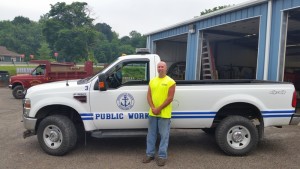 Ed Kelleher Bridgewater Borough Street Dept. Supervisor